EZ Biker needs your HELP! Dangerous situation on road used by numerous cyclists!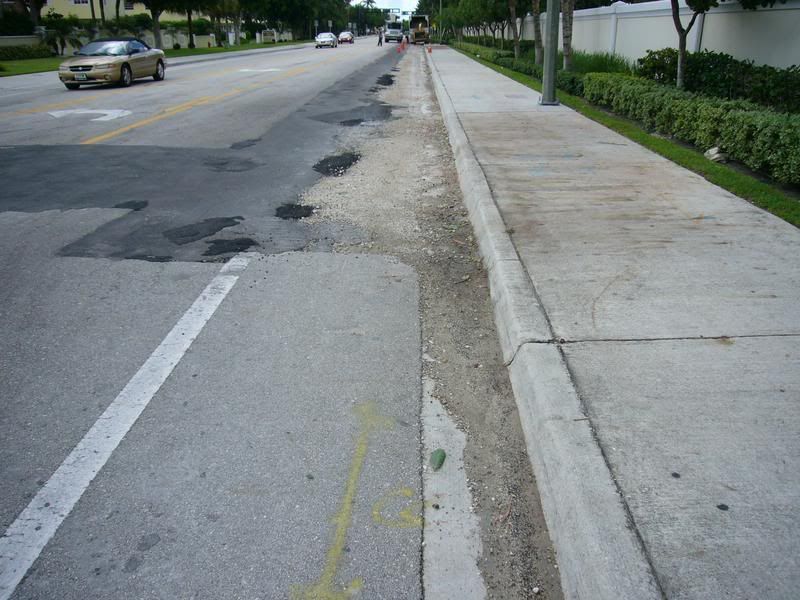 To all my EZ Biker Friends, Visitors and local area cyclists, I'm calling upon you to PLEASE HELP me in voicing your concern about a very DANGEROUS road condition brought on by some goofy street repair people that did the street repairs and then left the street, especially the bike lane, unusable by cyclists! The area involves A1A around the 5450 A1A street close to Sea Ranch Lakes community area. As you can see in the photo the bike lane is totally TRASHED and not even a warning sign around! You can see more photos, including my letter to the television station at the following link. I have written local area TV station Channel 10 Problem Solvers asking for their help in getting this roadway repaired PROPERLY! I'm calling upon everyone who reads this to likewise contact fellow cyclists and then everyone contact Channel 10 concerning this matter. Here is the link to them for snail mail, phone and email contact information. I'd suggest you contact "Problem Solvers" as this is where my correspondence has been sent to.

There are some high profile bike events coming up in the area very soon and even MORE cyclists will be using this already high bicycle traffic area. Again, PLEASE send your comments and voice your concern about this DANGEROUS situation! Thank You all for your support in this matter! :-) :-) :-) EZ Biker :-)



10/3/07 - Update!

Nick Sortal of our local news paper Sun-Sentinel has posted my site and message at his blog site. Thanks Nick! I've also gotten a lot of support emails concerning this, as well as those that have written to various media sources, seeking help in this issue. Thanks to you all and keep those emails and contacts about this issue going!